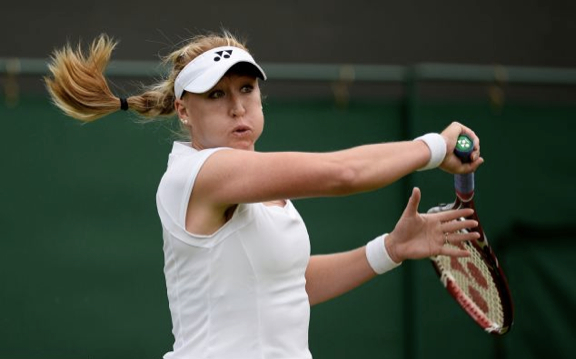 Elena Baltacha dies aged 30 just two months after revealing liver cancer diagnosis
Former British number one tennis champion Elena Baltacha dies aged 30 just two months after revealing liver cancer diagnosis as husband says he is 'heartbroken beyond words'
Tennis star revealed she was battling cancer in statement in March

Agents have confirmed she died in early hours of Sunday morning

Long-term coach and husband Nino Severino says he's 'heartbroken'

Planned benefit matches featuring top players to still go ahead
By Maureen Sugden and Richard Spillett
Published: 19:02 EST, 4 May 2014 | Updated: 20:40 EST, 4 May 2014
Tennis player Elena Baltacha has died less than two months after revealing she had been diagnosed with liver cancer.
The former British number one had vowed to fight the disease 'with everything I have' after breaking news of her illness in March.
But last night, the sports star's agents confirmed she had passed away aged just 30, as her new husband said he was 'heartbroken beyond words'.
Scroll down for video
Talent: The Scot went on to reach a career-high ranking of 49 in 2010
Illness: Baltacha seen at LAX airport in the US last month after she announced she was battling liver cancer
In a statement released on behalf of her family, her agents said: 'It is with deepest sadness that we bring you the following news – Elena Baltacha died in the early hours of Sunday 4th May of liver cancer. She was 30 years old.
'Elena, who always went by her nickname Bally, was diagnosed with liver cancer in mid-January 2014, two months after retiring from professional tennis and just a few weeks after marrying Nino Severino, her long-time coach and partner.
'Despite a determined battle against the disease, she passed away peacefully at home with her husband Nino by her side and surrounded by friends and family.'
Mr Severino added: 'We are heartbroken beyond words at the loss of our beautiful, talented and determined Bally. She was an amazing person and she touched so many people with her inspirational spirit, her warmth and her kindness.'
She said: 'I have recently been diagnosed with cancer of the liver. I'm undergoing treatment and fighting this illness with everything I have.'
Brave: Baltacha had vowed to fight the disease with 'everything I have'
Miss Baltacha's husband and coach Nino Severino said he was 'heartbroken beyond words' after she lost her battle with liver cancer
Miss Baltacha was born in the Ukraine, but brought up in Scotland and always considered herself British. As a teenager, she was diagnosed with a chronic liver condition, known as primary sclerosing cholangitis (PSC), which had hampered her progress since her debut in 1997.
She managed the condition – which attacks the immune system and can lead to cirrhosis of the liver, liver failure and liver cancer – with regular blood tests and a daily cocktail of ten pills throughout her career.
Despite the disease, she won 11 single titles, with her best Grand Slam finish coming in the third round of Wimbledon in 2002.
In a statement on the Lawn Tennis Association website in March, she revealed her condition.
Baltacha, who was born in the Ukraine but grew up in Scotland, represented Team GB in the London 2012 Olympics
Miss Baltacha retired from tennis in November of last year following a series of injuries
Andy Murray, pictured with Miss Baltacha, is among the stars set to play in a series of 'Rally for Bally' benefit matches for cancer charities in June
The world of sport began to express tits shock last night as the tragic news broke.
Former women's tennis player Lindsay Davenport tweeted: 'Just awful' and fellow Team GB athlete, boxer Nicola Adams, posted: 'So tragic, my heart goes out to her family and friends.'
She retired from tennis in November of last year following a series of injuries, admitting she simply couldn't handle the rigours of professional tennis any more.
She told BBC Sport: 'My body has taken such a bruising over the last 16 years and that's finally taken its toll.
'I have had some amazing experiences through playing tennis – some incredible highs and some very low lows – and I wouldn't change any of them.'
On June 15, the tennis community – including Andy Murray – was set to unite for a 'Rally For Bally', featuring mixed doubles matches at three different tennis venues, including Queen's Club, with proceeds benefiting the Royal Marsden Cancer Charity and the Elena Baltacha Foundation.
Her agents last night confirmed that the rally event will still go ahead, in her memory.
Victory: Miss Baltacha after winning the AEGON Nottingham Challenge in 2011
Tributes: Heartbroken friends described her as 'a gift that was taken from us too soon'
FROM THE SOVIET UNION TO CENTRE COURT: THE RISE OF ELENA BALTACHA TO BRITISH NUMBER ONE
1983: Born August 14 in Kiev, Ukraine.
1997: Plays first match on the ITF junior circuit in February, spending four years in the junior ranks before playing her last tournament at that level in the 2001 junior US Open.
2000: Competed for Scotland in the Commonwealth Youth Games, winning silver in the women's team event.
2001-02: Diagnosed with liver condition, primary sclerosing cholangitis, at the age of 19.
2002: June – Reached the third round of Wimbledon after entering the tournament on a wild card for the second consecutive year.
A 17-year-old Miss Baltacha in Eastbourne in 2001 during the traditional women's Wimbledon warm-up tournament
2003: Underwent surgery relating to her liver condition, which put her career on hold until 2004.
2005: Reached the third round of the Australian Open, beating Katarina Srebotnik and Stephanie Cohen-Aloro before losing to Silvia Farina Elia.
2007: March – Returned to action after a frustrating spell out with a prolapsed disc, which required surgery in 2006.
2010: January – Equalled her best-ever performance at the Australian Open by reaching the third round.
Miss Baltacha flies the British flag at Wimbledon in 2002, when she reached the tournament's third round
August – Participated in the main draw of the US Open for the first time in her career, reaching the second round.
September – Attained her highest-ever singles ranking of 49.
2011: May – Progressed into the second round of the French Open.
August – Repeated her best-ever showing at the US Open by reaching the second round after opponent Jamie Hampton was forced to retire after collapsing on court.
She celebrates beating Ukraine's Alona Bondarenko at Wimbledon in 2009
2012: Represented Great Britain at the London 2012 Olympics in both the singles and doubles events, making her first appearance on July 28 as she beat Agnes Szavay of Hungary before falling in the second round. Took time off following the Olympics to have surgery on a foot injury.
2013: November 18 – Announced her retirement from tennis on November 18.
December 8 – Married long term coach and boyfriend Nino Severino.
2014: January – Diagnosed with liver cancer.
May 4 – Died peacefully at home from the disease in the early hours, with Mr Severino at her side.
Stacey Allaster, chairman and chief executive of the Women's Tennis Association, said in a statement: 'We are deeply grieved to lose our friend Elena Baltacha in her battle with cancer.
'Elena's journey was never an easy one and yet she consistently showed her strength, good humour and indomitable spirit.
'The WTA was blessed to have such a champion compete and represent women's tennis; Elena passionately represented Great Britain on the world stage and her personal commitment to excellence inspired us all throughout her career to strive for more, to be more, to give more.
'The loss of this special person will have a significant impact on her fellow competitors who not only respected her, but more importantly, loved her.
'"Bally" was such a caring human being, always putting others before herself, and a warm, fun person. A shining example of her commitment to looking out for the welfare of others is the Elena Baltacha Academy of Tennis, which she established so that children from disadvantaged backgrounds could learn to play the game she loved so dearly.
'I am honored that I had the opportunity to know Elena, to call her 'Bally' as her friends do. She was a gift that was taken from us too soon; she will be deeply missed.
'On behalf of the WTA family of players and tournaments, our hearts and prayers go out to her loving and supportive husband Nino, her parents, brother and friends on this terribly sad day.'
HOW LIVER CANCER KILLS ALMOST NINE IN TEN VICTIMS WITHIN 5 YEARS
Liver cancer is one of the deadliest forms of the disease. There are two broad categories – secondary and primary.
Primary liver cancers start in the liver, while secondary develops elsewhere in the body and then spreads to the liver. It is sometimes called metastatic cancer and is the most common type of liver cancer in the Western World.
Miss Baltacha vowed to fight the disease with 'everything I have'
Primary liver cancer is more common in men than in women, but it's not clear why. The condition is also more likely to affect people over the age of 60 and is rare below the age of 45.
Although primary liver cancer is relatively rare in the UK and US (it is in the top 10 most diagnosed cancers), one type, hepatoma, is the sixth most common cancer worldwide.
It is common in sub-saharan Africa and parts of Asia such as China.
Often there are no symptoms in the early stages of liver cancer. This is because the liver is capable of functioning very well when only part of it is working. Typical symptoms include tiredness, weight loss, nausea/vomiting and itchy skin.
Overall, the outlook is poor – the five-year survival rate of people with liver cancer is 16 per cent.
For the 41 per cent of people who are diagnosed at an early stage, the five-year survival rate is 29 per cent.
If the cancer has spread to a distant part of the body, the five-year survival rate is 3 per cent. Many people who develop primary liver cancer are already in poor health with cirrhosis.
The best chance of a cure is with surgery when the cancer is small, has not spread from the liver, and the rest of your liver is relatively healthy. However, this situation only occurs in a minority of cases.
Leave a Comment
You must be logged in to post a comment.