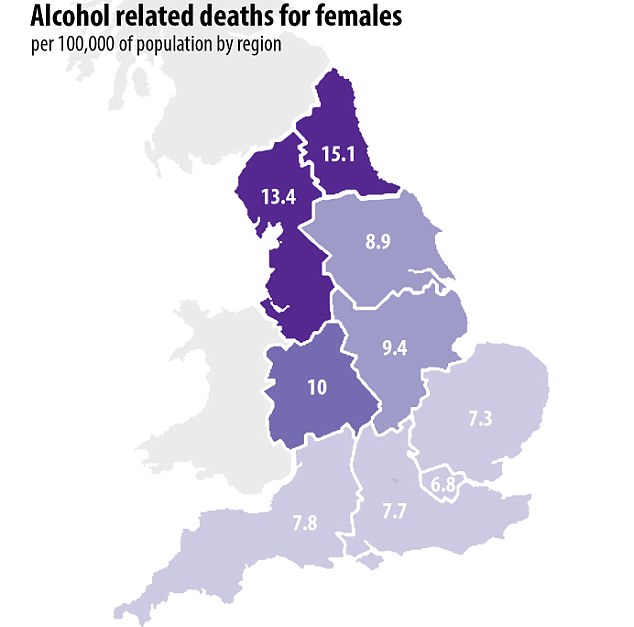 UK: How alcohol death rates can DOUBLE depending on where you live
How alcohol death rates can DOUBLE depending on where you live: Women in the North East twice as likely to die from drink-related causes than those in London
By Kate Pickles For Mailonline
Published: 08:42 EST, 2 February 2016 | Updated: 11:02 EST, 2 February 2016
Deaths relating to alcohol abuse vary wildly across the UK, new figures have revealed.
Women living in the North East are more than twice as likely to die from alcohol-related causes than those living in London, data released today shows.
The total number of drink-related deaths in the UK has nearly doubled in 20 years with 8,697 recorded in 2014.
Men accounted for the majority of deaths with the highest rates among 55 to 64-year-olds.
Deaths from heart disease and strokes were the most common where alcohol was reported as a contributory factor.
And liver cancer had the highest proportion of deaths where alcohol was listed as the likely cause.
However, there were stark variations in the number of fatalities in both men and women, depending where they lived, the Office for National Statistics found.
The maps reveal the number of alcohol-related deaths by region for women in England. The North East had the highest proportion of deaths at 15.1 of the population, compared to London with the lowest at 6.8
More men than women die of alcohol-related causes with those in the North West having the highest rates at 25.5 while the East of England had 13.3
The North East region recorded the highest number of alcohol-related deaths in women in England with 15.1 per 100,000 of the population.
London had the fewest for females with 6.8, while those living in the east of the country had some of the lowest figures at 7.3.
However, men living in the North West were the most likely of all in the country to have a drink-related death at 25.5 – while at 13.3, those living in the East of England were least likely.
Alarmingly, Yorkshire has seen the rate of alcohol-related death for both sexes more than double in the last two decades, when the records began.
Across the UK, Scotland had the highest number of deaths for both sexes – although it has also seen the biggest decrease in numbers.
This was followed by Northern Ireland, Wales and then England.
Charities said the latest figures demonstrated the rise of the so-called middle-aged drinkers.
Tom Smith, director of campaigns at charity Alcohol Concern, said: 'These latest figures show that alcohol-related deaths are back on the rise and have almost doubled in the last 20 years.
Charities said the rise in alcohol-related deaths was 'no surprise' but more needed to be done to look at what affects drinking behaviour in people
'The figures also highlight the dangers of middle-aged drinking, with the highest number of alcohol-related deaths among 55 to 64-year-olds.
'We continue to face extremely high levels of health harms caused by alcohol, and it continues to be the leading risk factor for deaths among men and women aged between 15 and 49 years in the UK.
'Unless we start taking this seriously and acknowledge the health risks that too much alcohol can cause the situation will only get worse.'
Amanda McLean, Director of World Cancer Research Fund UK, described the figures as 'worrying' as increased alcohol consumption has been linked with many cancers.
'There is strong evidence that alcohol increases the risk of five different cancers including bowel, breast and liver,' she said.
'About 24,000 cancer cases could be avoided every year in the UK if everyone stopped drinking alcohol.
'We recommend that, when it comes to cancer prevention, people avoid alcohol as much as possible as any amount increases the risk of cancer. If they are going to drink then they should limit alcoholic drinks to one a day.'
Professor Kevin Fenton – director of health and well-being at Public Health England, said: 'With over 10 million people in England drinking too much, it is no surprise that deaths from alcohol, which disproportionately affect men, continue to be far higher than 10 years ago.
'Alcohol harms individuals, families and communities and it's crucial that, alongside effective local interventions and treatment for those that need it, we look more widely at what affects drinking behaviour in this country, such as marketing and pricing.'
He said Public Health England would be providing a report to Government on how to reduce the harms caused by alcohol.
Leave a Comment
You must be logged in to post a comment.