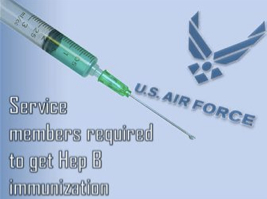 Service members required to get hepatitis B immunization
Service members required to get hepatitis B immunization
by Capt. Daviesha Rice
45th Aerospace-Medicine Squadron
5/16/2014 – PATRICK AIR FORCE BASE, Fla. — Hepatitis B is a potentially fatal liver disease spread by contaminated blood or body fluids. Thirty-eight thousand persons became infected with hepatitis B in 2009, and approximately 2,000-4,000 people die each year due to the cirrhosis or liver cancer that is caused by the virus, according to the Centers for Disease Control and Prevention,
The Department of Defense recently updated their immunizations regulations to require that all service members be immunized against the hepatitis B virus, according to Air Force Instruction 48-110. It is estimated that completing universal immunization will reduce cost and workload for the Combatant Commands, by reducing the need to vaccinate deployers in theater.
The virus can be easily spread, and may live for up to seven days on an object. Activities involving contaminated toothbrushes, razors, diabetic devices, needles, and unprotected sexual contact are among examples of potential infection sources. Therefore, civilians, retirees, and other non-uniformed beneficiaries may also consider receiving the vaccine.
The hepatitis B vaccine is given in a three dose series, ideally over a period of six months. Required members have already received notifications describing vaccination events that have occurred in the immunizations clinic. Members who have not received notification, but suspect that they do not have recorded hepatitis B immunity, should pay close attention to the criteria listed below.
Who is already vaccinated?
· All new accessions since 2002
· Select Occupational Health Shops
· History of a deployment that specified hepatitis B as a requirement
· Healthcare workers
If you do not fit at least one of the categories listed above, it is recommended that you begin completing this requirement immediately to avoid being reported to your unit leadership. If you have not completed the series within the required time period, your individual medical readiness status will eventually turn red.
You may report to the immunizations clinic during regular business hours to begin fulfilling this requirement.
If you are certain that you have already received the complete vaccination series, you may provide a shot record to the Immunizations clinic to become updated in Aeromedical Services Information Management Systems.
If you are certain that you have already received the complete vaccination series, but cannot provide a shot record, you may ask to have your blood drawn at the Medical Group Laboratory to confirm your immunity status.
For more information call Immunizations, 321-494-8259; Public Health, 321-494-8292; or Laboratory, 321-494-8153.
Leave a Comment
You must be logged in to post a comment.