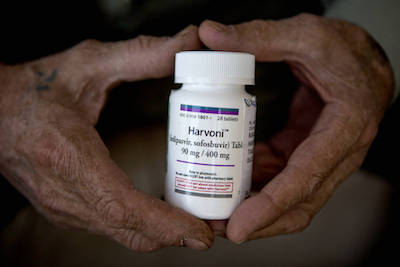 Insurers Probed on Hepatitis C Drug Coverage
Insurers Probed on Hepatitis C Drug Coverage
New York state's attorney general investigates alleged restrictions on expensive but effective drugs
Harvoni, which is manufactured by Gilead Sciences, cures hepatitis C in from 90% to 99% of cases. Photo: Max Whittaker/Prime for The Wall Street Journal
New York's attorney general is investigating state health-insurance companies for allegedly restricting coverage of drugs that can cure hepatitis C, saying that the firms have inappropriately rationed care by denying patients expensive but effective medication.
Some of the drugs have been the subject of consumer lawsuits, a continuing inquiry by the Massachusetts attorney general and a warning by federal officials that state Medicaid programs may be violating federal law by denying patients the medication. Pharmaceutical companies say the drugs are worth the cost because they result in long-term savings in care.
New York state Attorney General Eric Schneiderman's office has issued subpoenas to 16 health insurers—which includes all major commercial plans in the state—requesting documents on the companies' processes for authorizing drugs used to treat hepatitis C and documentation on patients who have been denied coverage, said a person familiar with the investigation.
ENLARGE
The subpoenas began to go out last fall, and some were sent as recently as two weeks ago.
The inquiry centers on whether the firms are engaging in misleading and deceptive practices, because the law requires accurate disclosure of what they cover and consider medically necessary, according to Mr. Schneiderman's office. Thousands of patients with hepatitis C may have been illegally denied coverage, according to the office.
Representatives from Aetna Inc., CareConnect and EmblemHealth Inc. confirmed they received subpoenas but declined to comment.
The New York Health Plan Association, which represents health insurers, said clinical guidelines for the hepatitis C drugs were quickly evolving and plans were adapting their coverage to the new medical information that becomes available.
"We feel the subpoena is overly broad, and doesn't take into consideration the impact of the excessive pricing of the drug," an association spokeswoman said.
ENLARGE
Materials for intravenous drug users at Vocal-NY, an advocacy group for low-income people living with HIV/AIDS and hepatitis C. Photo: Pearl Gabel for The Wall Street Journal
Empire BlueCross BlueShield, a subsidiary of Anthem Inc., said it relaxed its drug-approval criteria in December. "This decision was based on evolving medical evidence and unrelated to any regulatory inquiries," a spokeswoman said.
The initial two subpoenas from Mr. Schneiderman's office requested information only about the hepatitis C drug Harvoni, according to the person familiar with the investigation. Approved by the Food and Drug Administration in October 2014, Harvoni, which is manufactured by pharmaceutical company Gilead Sciences Inc., has been hailed as a wonder drug because it cures hepatitis C in 90% to 99% of cases.
Harvoni costs $94,500 for 12 weeks of treatment, which is the amount of time most patients take the drug to be considered cured. It has been widely criticized for its price, and is the subject of an investigation by the Massachusetts attorney general initiated earlier this year.
In a statement, Gilead called Harvoni cost-effective, saying the price is less than the lifetime costs of treating hepatitis C. Additionally, it gives insurers steep discounts, including more than 50% for Medicaid, it said.
The remaining subpoenas that were issued are broader and don't specify drugs, said the person familiar with the investigation. Other common hepatitis C medications are Sovaldi, also made by Gilead, with a list price of $84,000, and newer drugs by AbbVie and Merck & Co.
Most of the insurance plans have been restricting the drug until patients' livers are being damaged, the attorney general's office found. Between 50% and 90% of patients whose doctors prescribed Harvoni were denied coverage by their insurer, the attorney general's office said.
The hepatitis C virus is highly contagious through blood contact, particularly from sharing needles when injecting drugs, said Robert Brown Jr., chief of liver transplantation at NewYork-Presbyterian/Weill Cornell.
ENLARGE
Elizabeth Owens, an organizer for Vocal-NY, was diagnosed with hepatitis C two years ago. Photo: Pearl Gabel for The Wall Street Journal
"The typical patient is a baby boomer born between 1945 and 1965 who may have experimented with drugs when they were in college years ago," Dr. Brown said.
About 15,000 hepatitis C cases were diagnosed in the state in 2014, about half of which were in New York City, according to state health department data. From three to six million people have hepatitis C nationwide, Dr. Brown said.
"I do believe that because this is a disease predominantly of the marginalized—persons of color, drug users, the homeless, people who have been incarcerated—that there is an undercurrent of stigma that influences interests in spending money for this population," said Brianna Norton, hepatitis C medical director at Montefiore Health System's Comprehensive Health Care Center.
Elizabeth Owens, 58 years old, of New York City, said she was diagnosed with hepatitis C two years ago. Her doctor wanted to prescribe Harvoni, but said her insurance wouldn't cover it, she said. "They say I'm not sick enough to have it," she said. "They want it in a chronic stage."
An admitted former drug user, Ms. Owens went to a drug-treatment program and is now an organizer for Vocal-NY, an advocacy group for low-income people living with HIV/AIDS and hepatitis C. Her doctor told her it might take a couple of years until her hepatitis is severe enough to qualify, she said.
Leave a Comment
You must be logged in to post a comment.